Student Accommodation For Sale Nottingham U.K.
Competition will always apply, the trick is to invest in properties that are 'top of the tree'  you cannot do better than a 2 bedroom professional standard apartment located within walking distance of a highly ranked university.
High standard student property for sale, modern apartments in prime city centre locations
Offered pre-let with student tenants so instance income
Proven track records 8 -10 years
These Apartments book up 4 to 6 months in advance such is student demand 

       Investment flats from as little as £60K 
Investor Report:
Tap Into The Most Buoyant Sectors Of The Private Rented Market.
Over Supply?  - Why Invest In The Student Let Market? - Which Makes More Student House or Apartment?
Over Supply Of Apartments
The most buoyant and secure sectors of the U.K. private rented property market are quite simply young professional workers or university students.
Students need accommodation near the university that they are studying at, and young professionals need to live in our city centres to take advantage of the Service Sector employment that has expanded so greatly over the last ten years or so.
During the last property boom, there was an explosion of redevelopment in many of our city centres caused by generous planning and regeneration incentives, availability of mortgages and funding, and a rising property market. It was as through the sun and moon aligned together, a perfect set of circumstances for growth, investors and developers rushed in to capitalise on this rare opportunity.
The result was the birth of a new , high standard city centre housing stock, in the form of 1 and 2 bedroom apartments, designed to house those working in the growing Service Sector.
New city centre employment, new apartment housing stock, new shops, restuaurants, bars and bistro's, our city centres in many cases have regenerated from dying or defunct manufacturing districts, into city centres that provide an attractive life style, especially for those under 35 years of age, working in the Service Sector. The majority of these young professionals choose to rent a property rather than buy. This is because they tend to need mobility so they can move from one city to the next to take advantage of job promotions, their salaries are often not sufficient to buy a property, and yes they are under 35 years old, not married, no children, and want to enjoy the city life...hey doesn't sound bad does it.
All markets are about supply and demand, and as the last property boom progressed headlong, more and more cranes arrived, and more and more new apartment blocks were built, there comes eventually a saturation point and sometimes an over supply, and then things start to stall. Many of our city centres experienced elements of over supply , and the economy inevitably was also stalling and fell into recession. Some developers were caught out and there has been notable 'fire sales' of  some apartments in recent years including areas such as The London Docklands.
Each city centre or district should be analyised for this element of supply and demand, this can be seen by evaluating the rents being obtained for apartments, and how quickly they let. In many cases it is those apartment blocks located in secondary locations or that are poorly designed that are failing, better located blocks of apartments continue to let well at good rent levels. This makes sense, those developers that pushed the boom mentality too far building on cheaper sites on the edge or away from high demand city centre catchment areas are going to be the first to fail, against competition.
Tenants want to live in definate and preferred districts of any city and will not be persuaded to let properties in areas that they perceive as less convenient or less desirable, even if the rent is cheaper...why should they , when competition is applied they can secure their first choice.
So investors need to pick primary located apartments, to secure their long term investment income. Equally it is these primary apartments that are most likely to experience increases in rental yields and capital growth.
Why Invest In The Student Let Market ?
Well many landlords who had invested in city centre apartments could now see a shrinking or certainly stagnant Service Sector and needed tenants to support their investments, and many have come to rely on a demand from tenants which has actually grown during the recession - THE UNIVERSITY STUDENT. Universities have expanded greatly and more than ever the demand for university places has become oversubscribed. This means universities can select the best standard of student applicants, and in this economic climate many students and their families take the opportunity of obtaining a university degree very seriously indeed.
One barrier to a university education is without doubt financial. There is a good percentage of university students that have parental financial backing, and this means that increasingly many university students come from more affluent homes and backgrounds.
Times certainly change, and the days of the bad student image incapsulated in the 'Young Ones'  the run down student house run by a dodgy landlord have certainly gone, the expectations of today's affluent student and more importantly their parents could not be more different.
It is now standard management practice that parents of student tenants sign a binding GUARANTOR AGREEMENT which covers the landlord for any possible rent arrears or breakages, you certainly would not get such a guarantee with young professional working tenants.
Because apartments only house a single student or 2 students sharing, the management becomes an easy process, compared with the traditional large student houses of the past.
Students come from better and more affluent families so tend to be used to a higher standard of housekeeping, and are likely to be policed by visits from their parents who after all have had to guarantee that the property will be returned to the landlord in good order.
Stability of letting is a great benefit of student letting, landlords know that students will need their apartment for a fixed time period in line with the acedemic year. In practice this amounts to a full rent being paid for 11 months in each 12 month cycle ie: a 1 month void period per year. Not only do landlords have this element of certainty not always obtained from the alternative young professional tenant, but also in many cities student pre-book an apartment well in advance of them needing it. It is not uncommon for students to pre-book apartments located in the right locations up to 6 months in advance ! Well it doesnt get any securer than that.
More affluent parents means a higher expectation about where they want their son or daughter to live, the quality of the property itself and increasingly safety has become a big selling point for apartments. Parents can see modern, quality buildings with secure entry systems, car parking, etc, and these parents are willing to pay to make sure their son or daughter secures a good quality apartment. This helps to maintain high rent levels for your apartment investment.
Student letting in short represents a more stable property investment than most young professional tenancies.
In the future a student apartment can simply revert to professional letting as an economy improves.
In the longer term an apartment in a city centre is likely to be in higher demand from first time buyers or young couples looking to buy helping to underpin growth in capital value over time.
Ropewalk Court, The Ropewalk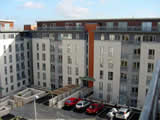 Avalon House Studios 
Regent Court, Student Flats
INVESTING IN STUDENT FLATS & APARTMENTS
Which University City or Town To Invest In ? - Highly ranked universities tend to attract financially better off students with parental backing, or sponsored foreign students. Both Nottingham Universities are highly ranked and very oversubscribed with applications. There is also a very well respected Law School and Medical School.

Must Be In Close Proximity To A University - Only buy property for student accommodation, that is situated very near to the University you wish to attract students from. The student market is very bouyant but there is not a shortage of student accommodation and competition applies.

Never get sucked in by offers of higher than average yields or by the quality of a newer property if the house or flat being offered for sale is situated out of the main, preferred student housing districts near a university. Do not become convinced that offering lower rents or a higher specification by degree will ever compete with a better located property, it is a classic mistake of inexperienced investors. In Nottingham ; Ropewalk Court , Regents Court, Parkgate, Lace Market District, Park West, are developments that are situated within a mile of the Nottingham Universities and offer high standard apartment housing to local students, not surprisingly they let quickly to Nottingham students, year after year.

Buy Newer Apartments Or Student Houses ? - Traditionally Victorian three storey houses located near a university have been an absolute winner, however in the recent property boom a new apartment housing stock has been built in many of our city centres, and some of these high standard apartments are located near to major universities...high standard competition has arrived for the traditional student house.

New regulations have now come into force that affect especially 3 storey houses used for multiple student letting in terms of fire safety, space standards and indeed a code of management that must be complied with. An investor considering the purchase of a three storey house must check that houses for sale are registered and passed by the local council's Envirnomental Health Department in respect to HMO (Houses in Multiple Occupation) Licensing.

Newer , 2 Bed Apartments do not suffer from such legislation, they already comply with fire safety and space standards and tend to out compete older terraced housing in terms of modern fittings, styling, & have better security for student accommodation.
Which Investment Makes The Most Yield ? - Well the rents being achieved by prime terraced student houses and prime student apartments are more or less the same. So investors need to simply work out how many bedrooms there are in a property and multiply the number of bedrooms against the weekly rent they feel their local student market can support.

For example realistically in Nottingham a rent of £68 per bedroom per week can be achieved.

Then one must consider maintenance expenditure, larger houses, accommodate more people so investors must expect more wear and tear and a higher degree of breakages and rent arrears. Apartments typically house 2 students sharing which make them far easier to manage and control, and the element of wear and tear considerably less.

Older terraced housing stock usually attracts higher maintenance costs, more house break-ins, more problems with bathroom/shower plumbing...more furniture replacement...fire alarm call outs...etc...etc

Newer Apartment owners pay an Annual Service Charge to the professional managers of the apartment block who take care of maintenance issues, and being newer build the fabric of the building is likely to be in good order.

In many city centres there has been an element of over-supply with the number of newer apartments being built during the property boom, this is judged against the number of employed city workers needing city centre accommodation, and the number of first time buyers looking to buy their first flat. The current recession has hit these two elements, and so capital values for many city centre apartments are falling.

Astute investors are now snapping up low priced apartments that can then tap into the student accommodation market with a prospect of 6 to 7 % yields rent to value.

Traditional terraced houses are achieving around the same yields certainly in Nottingham, in fact the capital value of student let houses in the Lenton district are based purely on their rent to value yield, rather like a commercial property.
What About Increases In Capital Values In The Future ? - This is very interesting, because traditional terraced houses located in inner city districts near to universities often find their capital value is dependant on the rent they can achieve. If these houses became more difficult to rent to students then these houses would become very susceptiple to disproportionate falls in capital value because the 'local city centre family' could not afford the inflated capital values driven up by high student rents. For example In the Lenton District near Nottingham University, if landlords suffered too much competition from newer apartments and University Student Accommodation Building, then the capital values of their terraced student houses could fall dramatically as the local family market would not want or be able to pay an inflated capital value when compared with the general local inner city housing market.
FUTURE POLITICAL PRESSURE COULD THREATEN THE CONSIDERABLE DEVALUATION OF STUDENT HOUSES
On a more sinister level the new HMO LEGISLATION could prove to be more than just fire safety and space standard controls,  City Councils could push for a policy that made landlords of HMO Student Let Houses apply for planning permission before they would be allowed to operate their student let properties as Houses in Multiple Occupation ...and that planning permission could be refused if the Local Council deemed there to be too many student houses operating in a certain area !
These planning constraints became law in April 2010 so is now a harsh reality for student landlords with houses shared by 3 or more tenants. At some time in the future  the Council could decree that only a low percentage of the houses in Lenton could be used for Student Housing, capital values of houses not granted HMO Planning Permission would crash ! ...to a level that was affordable to local city centre families.
City Centre Apartments Capital Values - have fallen due to a number of commercial reasons, but they represent a new housing stock, located in preferred city centre locations, and meet up to date styling along with good security, when first time buyers return to the housing market they should prove popular for that first time purchase and this should sustain capital values. Equally for investors as the city economy grows in the future there is the prospect of increased demand for renting from the mobile young professional tenant.